We're committed to make your PureNile experience as comfortable as possible from shopping to shipping
Free Shipping
We offer free FedEx shipping on every US, Canadian, UK, and Australian order.
Discreet Packaging
Your order will arrive in a discreetly marked package so your secret will be safe. Every piece of PureNile jewelry comes in a beautiful gift box that will make the presentation that much more amazing.
What's Included in Your Order?
PureNile's Certificate of Authenticity or Third Party Jewelry Appraisal
Gorgeous PureNile Box
30-Day Return Policy
One Free Ring Resizing
Domestic Shipping
These policies apply to domestic orders; to be shipped within the U.S.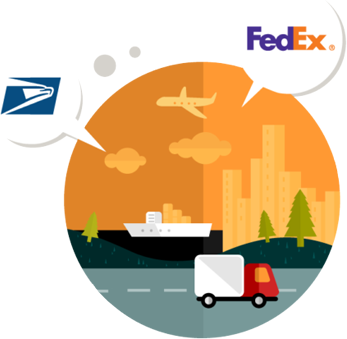 Shipping Options
Domestic Shipping (Within USA)
Shipping Type
Price
Estimated Shipping Time
Ground Shipping
Free
3-4 Business days
2-Day Shipping
US $12
2-3 Business days
Priority Overnight Shipping
US $20
1-2 Business days
Saturday Delivery
US $32.95
1-2 Business days
Shipping date is based on when your package leaves our shipping department. Please check the Estimated Delivery Day on our product pages before placing the final order.
Exceptions to our delivery time frame:
Natural calamity or bad weather conditions may delay or postpone our deliveries. PureNile.com will not hold liability or refund the shipping charge based on any such delay.
APO, FPO, DPO, PO boxes, and US Territories
We ship orders to APO, FPO, DPO, PO boxes, and US Territories via USPS priority mail with delivery confirmation. Usually, it takes around 7-10 business days for the order to arrive at its shipping destination. The arrival time (arrives by date/estimated shipping date) displayed are for U.S. addresses only and do not apply to APO, FPO and DPO addresses.
Tracking Your Order
Once your order has shipped, you will receive a confirmation email that allows you to track your order.
Ring Re-sizing
Each PureNile ring comes with the option of one free resizing during the first year of ownership. Call PureNile's personal jeweler at 1- 323-471-3233 to arrange for your free resizing. Customers (international and domestic) will have to pay for shipping both ways with insurance.
All Shipments are Insured
Every item is fully insured. All deliveries are made to a physical business or home address only. For added security, an adult signature is required for all PureNile items/orders.
We're committed to make your PureNile experience as comfortable as possible from shopping to shipping